The Empire Strikes Back takes the things that were awesome in Star Wars and digs into them, unearthing deeper and richer deposits of awesome under the surface. You thought Darth Vader was pretty cool? ESB escalates him from a brooding henchman to a monomaniacal tyrant ready to tear the galaxy a new one if it would mean finding his (spoiler) son. You liked Han Solo? He's back with better dialogue and a Millenium Falcon that's actually able to turn, and he and Leia get a love story that's sometimes quite poignant. You wanted Luke to learn more about the Force? In ESB, a Jedi Master weaves the complete mythology behind the Force, connecting animist and Zen ideas to create a unique philosophy. You found C-3PO annoying? Well….at least in this one Leia and Han tell him to shut up a lot.*
Yet for every instance where ESB gives the fans what they want, there's one of genuine risk-taking. Rather than going into intense battles, Luke trains and studies…under the tutelage of a puppet voiced by the guy who does Miss Piggy. There is a big showdown between the Empire and the Rebels…but it's at the beginning of the movie, and the good guys get their butts kicked. The plot structure you'd expect from an adventure movie is replaced by a looser, meandering method of story-telling. Fan-favorite Han Solo is frozen into a block of carbonite for the last half hour of the movie. Finally, when the movie comes to a close, the only happy ending is that most of our heroes are just maimed or captured, not dead.
These gutsy choices that Lucas, the screenplay writers, and director Irvin Kirshner made should not be taken lightly. It would have been so easy to write Star Wars The Sequel!, where Luke, Han, and Leia go on an adventure that is more or less identical to the original movie.** Instead, the creative team decided that the Star Wars trilogy was going to be an sprawling epic, and that The Empire Strikes Back was going to be the middle part of the story that develops the characters and saves the pay-off for later. That ESB manages to be both that connective tissue and an entertaining stand-alone film is pretty impressive. How does it pull it off?
Partly in making sure that the little things are in order. While Star Wars was visually impressive, ESB is straight-up beautiful, especially in the frozen wasteland of Hoth and the cloud city of Bespin. Musically, John Williams surpasses his last efforts as well, creating an ominous march for Vader, a charming romantic theme for Han and Leia, and some great frenetic battle music. The dialogue, while still not Shakespeare or anything, is improved as well; Han and Leia have more fast-paced verbal sparring, and Yoda has some actual wisdom to impart.
But mostly I think that ESB is so good because the stakes are so high. This is the most serious and somber chapter in the Star Wars trilogy, and it frequently raises the very real possibility that our beloved characters will die. The pressure causes the characters to stretch; Luke is forced to grow up. Han and Leia's relationship is strengthened by the persistent sense of peril, and vice-versa.
The only downside to the more serious tone is that it sometimes shakes up the camaraderie of the group that made them likable in the first place. There's a point about halfway through where ESB starts to suffer from unhappiness fatigue. Yoda yells at Luke for failing every single dang Jedi test. Han and Leia yell at each other because their ship is getting shot and also because this is their primary method of communication. Darth Vader yells at subordinates while killing them with his magic brain. Everyone yells at C-3PO for having a stupid British accent and caring about statistics.
Still, in Empire Strikes Back, there's definitely always a reason to be tense. When the Millenium Falcon tries to take refuge in Cloud City, Han's old friend Lando Calrissian betrays the heroes to the Empire. Han and Leia are captured and tortured, and Luke, who senses their plight with his improving Jedi skills, has to choose between his future as a Jedi and the lives of his friends. Despite the urging of Yoda and Blue Ghost Obi-Wan, Luke abandons his training. Rushing to Cloud City, he confronts Darth Vader… and it's pretty clear in the first ten seconds of their fight that he has little chance of actually winning. Compared to the furious, choreographed, equally-matched duels of the prequels, it's amazing how much more exciting Vader's cat-and-mouse game is.
It's not just death that our heroes have to face. ESB brings a new idea into the Star Wars story…what if, as in the cool slow-motion cave scene, Luke were to kill Vader only to take his place? People remember the iconic line from the lightsaber fight – "I am your father" – but the follow-up is just as important: Vader's suggestion that Luke could kill the Emperor and that the Skywalker family could totally rule.
Fortunately for the galaxy, Luke rejects the offer and hurls himself into the abyss. Hanging about the clouds by his fingertips, he calls on Ben Kenobi and, significantly, gets no response. Desperate, Luke calls out Leia's name…and Leia (who has meanwhile escaped thanks to Lando's help) senses him and flies the Millenium Falcon to his rescue. The good guys escape by the skin of their collective teeth, but all are left feeling defeated and betrayed. Some of Luke's last lines in the movie are "Ben…why didn't you tell me?"
So, no, it's not the non-stop fun ride of the first movie. It's an adventure movie that takes its conflict seriously and sets up a grim predicament for the final film to resolve. While it's a little moody and slow at times, this is done in the service of story and character. In expanding the tonal palette of the original, The Empire Strikes Back embiggens the Star Wars universe and perfectly sets up the final act in the story. And, in the meantime, manages to be completely rad.
GRADE: A-
Best Scene: Han Solo gets frozen into carbonite. Man, this scene is probably the best in ANY movie. The lighting, the music, the acting, the way Han and Leia can't bear to be parted but are trying to stay strong, the malevolent presence of both Vader and Boba Fett, and the Best Line of Dialogue: LEIA: I love you! HAN: I know.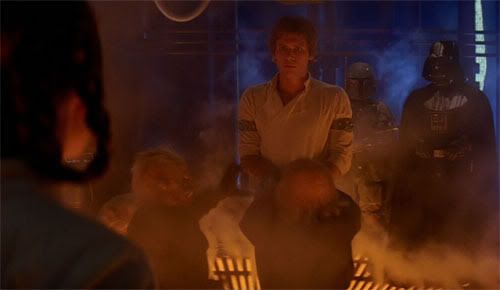 Worst Scene: R2 gets eaten by a swamp monster. Ok, in my last post I suggested that ESB was the only Star Wars movie that didn't need any more editing. Scratch that, they all need editing. This R2-swamp monster scene doesn't serve any purpose.
Worst Line of Dialogue: If you're watching the Special Edition (try not to, I beg you), the worst line the added Tarzan yell that they give Luke as he jumps away from Darth Vader into the huge chasm. Why, oh, why would you add in a Tarzan yell in one of the most dramatic moments of the movie?
If you got the better version (theatrical release), the worst line is probably when 3PO says "Oh! They've encased him in carbonite! He should be quite well-protected…if he survived the freezing process, that is." It's not a bad line in that it's terribly written, or out of character but FOR CRAP'S SAKE, 3PO, we were reveling in the afterglow of the Best Line of Dialogue in the movie and you brought out of our trance. Thank you. Thank You VERY much.
* Actually, it's pretty comical how much 3PO gets told to shut up in this movie. My favorite moment comes when 3PO sees an identical droid and pipes "Nice to see a familiar face again!" The other droid brusquely says "Ee Chuta" and 3PO gasps, "How rude!" Even other protocol droids think 3PO should shut his pie hole.
**Ok, honestly, this is basically what Return of the Jedi is.
PS. I didn't know where else to fit it in, so I'll use this PS to talk about how great Empire Strikes Back Yoda is. I love that they introduced the character as a little comic relief scamp, then, after Luke loses his cool, Yoda's flighty temperament is revealed to be a test of patience. After that, Yoda is stern, perpetually disappointed, and frankly, a little spooky. He takes his responsibility as a Jedi seriously and takes down Luke (and really, the wide-eyed enthusiasm of the first movie) when he sniffs "Adventure. Excitement. A Jedi craves not these things." He's such a well-crafted character and Frank Oz brings him to life. It's a pity that Yoda carries none of these personality traits into the other movies.
PPS. Also, I love Lando Calrissian. He's suave and funny, has a neat little mini-arc of betrayal and redemption, and is perfectly acted by the charismatic Billy Dee Williams.
PPPS. Also, I love Boba Fett. Man, Empire Strikes Back is so good.